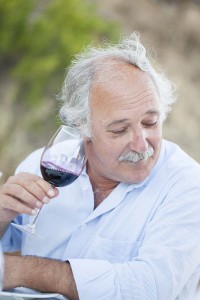 João Nicolau de Almeida, the son of Fernando Nicolau de Almeida, the creator of Barca Velha, and Maria José Ramos Pinto Rosas, was born in Porto in 1949 in a wine-oriented family context.
Fate led him to study oenology in France (Bordeaux and Dijon), with some of the most relevant names in the field, such as Émile Peynaud, Jean Ribéreau-Gayon, and others.
He began his career in 1976, at Casa Ramos Pinto. Challenged by José Ramos Pinto Rosas, the administrator of the Casa at the time, he developed a series of studies which would revolutionize the viticultural approach of the Douro region. He introduced irrigation systems, vinha ao alto planting (vertical planting) and its mechanization, and he conducted a study of the Douro varieties, suggesting a selection of five recommended varieties for the region. These varieties are widely cultivated nowadays. All this work was done not only to improve the quality of the Port wines, but also to develop the Douro wines. In 1990, he released the first harvest of Duas Quintas, one of the first Douro wines to be recognized on a national and international level as an exceptional wine. In 2000, he became both the director of oenology and the CEO of Casa Ramos Pinto.
In the meantime, in 1993, João Nicolau de Almeida began the process of building the Quinta do Monte Xisto, together with his children. Today, after 40 years of labour and dedication to the Douro region and Casa Ramos Pinto, he continues his work through João Nicolau de Almeida & Filhos.